Your healthcare team (neurologist, GP and others) is your best contact for any concerns or specific questions you may have about COVID-19, vaccinations and MND treatments and support.
MND Australia is dedicated to sharing the most up-to-date information about COVID-19 and its vaccinations with the MND community, as soon as information becomes available.
However, the current situation with COVID-19 in Australia is rapidly changing due to updates on virus case numbers, sources of infection, testing and developments in medical procedures, public health recommendations, and government decisions and restrictions.
You can access the latest updates about COVID-19 restrictions, case numbers and other information in Australia through:
Below you will find general information to help with living with MND during the COVID-19 pandemic, and some of the most important things to consider for reducing the risk of infection and dealing with the virus.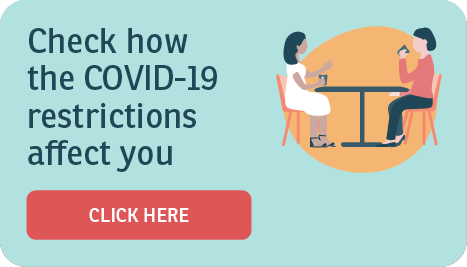 COVID-19 vaccinations
COVID-19 vaccinations are effective at reducing infection with COVID-19, and limiting illness from COVID-19.
Governments in Australia are encouraging everyone to get vaccinated because people who are vaccinated, and in turn the whole community, have greater protection from COVID-19.
Currently, four vaccines have been approved for use in Australia:
You will need two doses (injections) of a vaccine. Booster doses are also recommended if it has been 3 months since you received your second dose.
Novavax
Nuvaxovid (Novavax) is now approved for use in Australia for people aged 18 years and over. The Therapeutic Goods Association (TGA) provisionally approved Novavax on January 20, 2022 and it is expected to be available end of February 2022.
Further information about the Novavax protein-based vaccine can be found here
Healthdirect also has comprehensive fact sheets about the COVID-19 vaccines which can be located here
Booster Doses
While two doses of COVID-19 vaccine provide good protection, booster doses are recommended to maintain immunity against COVID-19. A booster will continue to protect you and your loved ones from infection with the disease. You are eligible for a booster if you are aged 16 years and older and if it has been at least 3 months since you received your second dose.
Pfizer and Moderna vaccines are offered as booster doses, regardless of which one you had for your first two doses.
Further information regarding the COVID-19 booster program can be located here
People living with MND often have a harder time with swallowing, breathing and coughing due to muscle weakness and may therefore be at risk of developing serious complications if they become infected with the COVID-19 virus, regardless of their age. Due to the risk of serious complications, COVID-19 vaccinations are important protection against the virus for people living with MND.
Your healthcare team is your best point of contact about vaccinations, including booking them and how to make the process easier.
The Australian Government also provides a COVID-19 Vaccine Eligibility Checker to find out when and where you can receive a COVID-19 vaccine.
Vaccinations for carers and disability, aged care and other workers
For people who provide care and other help for people living with MND, vaccinations can help reduce the risk of COVID-19 infection, and serious illness, for themselves, and those they support.
The Australian Government has encouraged carers, disability workers, aged care workers and other support workers to get vaccinations and follow advice about COVID-19:
Being aware of the rights that people living with MND have for receiving the care they need during the pandemic, and in ways that reduce the risk of infection, is also important.
The following advice and guidelines can help with supporting the rights and health of people living with MND.
Vaccine side effects
Some common side effects to COVID-19 vaccinations are:
pain where you had the injection
tiredness
muscle aches
headache
fever and chills, and
joint pain.
Side effects are generally mild and on average last a day or two. More serious side effects, including allergic reactions, anaphylaxis, myocarditis/pericarditis and thrombosis in combination with thrombocytopenia (blood clots), are extremely rare.
If you are concerned about side effects:
talk to your GP, neurologist or other members of your healthcare team
use the healthdirect Side Effect Checker
call the Australian Government Department of Health COVID-19 Hotline on 1800 020 080 (available 24 hours a day)
call 000 if you have difficulty breathing, a fast heartbeat, are wheezing, or are otherwise seriously unwell.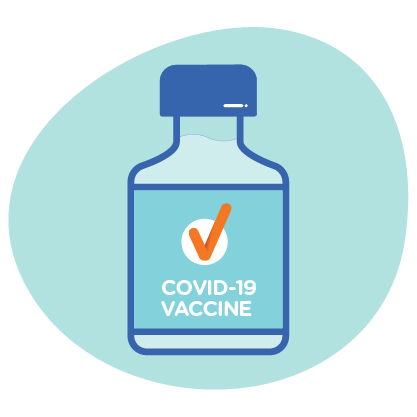 How else to reduce the risk of COVID-19 infection
Every precaution should be taken to prevent you, the people in your household and others you see regularly from becoming infected with COVID-19.
Practicing good hygiene and social distancing are important for preventing the risk of virus infection.
The World Health Organisation (WHO), healthdirect and the Department of Health provide useful information about good hygiene and social distancing, including information in videos, posters and other styles and formats.
Omicron Variant
The Omicron COVID-19 variant was first reported in South Africa in November 2021 and was declared by the World Health Organisation (WHO) to be a variant of concern due to it high transmissibility. Severity is still being monitored closely around the world. There is no evidence to suggest that the vaccines in Australia are any less effective at preventing severe illness, hospitalisation or death from Omicron.
Further advice and information on the Omicron variant, as well as Omicron and COVID-19 vaccines can be found here
The Australian Technical Advisory Group on Immunisation (ATAGI) statement on Omicron can be found here
If you are unwell or think you have COVID-19
If you are concerned that you may have symptoms you should get tested for COVID-19, isolate yourself and seek medical advice as soon as possible.
If you are concerned that you may have symptoms or may have been exposed to COVID-19 you can:
call the National Coronavirus Health Information Line on 1800 020 080 or
use the healthdirect symptom checker tool.
You should let your MND clinical care team know of your concerns as soon as possible.
People living with MND may already have some difficulty with breathing so if you experience any increased difficulties or sudden onset of breathing difficulties, present to your nearest emergency department or call 000 for urgent help.
It is important to also know the full range of symptoms of COVID-19. Other symptoms that are less common and may affect some patients include: loss of taste or smell, aches and pains, headache, nasal congestion, red eyes, diarrhoea, or a skin rash.
You can refer to the Healthdirect symptom checker for help understanding symptoms and knowing when to seek help.
If you test positive to COVID-19 Healthdirect provide guidance and information, including what to do and how long to isolate.
What you should know about breathing, medications and MND
Breathing
Over time MND causes the muscles that support your breathing to weaken. The respiratory muscles include the diaphragm and intercostal muscles. Weakness with the respiratory muscles can occur at any stage of disease progression, and lead to symptoms such as fatigue, difficulty sleeping and shortness of breath.
Positioning, adjusting air flow in the room, physiotherapy, breathing exercises, assisted coughing techniques, staying away from people with colds, influenza or respiratory tract infections and saving your energy are just some of the simple techniques you can use to manage mild respiratory symptoms.
Getting advice about respiratory management soon after your diagnosis with MND can help you live better for longer. Let your doctor or MND clinical care team know if you notice changes to your breathing.
Other strategies for managing breathing with MND include medically supervised use of medications such as opioids or benzodiazepines to minimise the sensation of breathlessness and reduce stress and anxiety, or supplementing breathing with non-invasive ventilation (for more information see the MND Australia fact sheets on breathing).
If you use a ventilator, non-invasive ventilation or cough assist device:
Speak to your health care provider or respiratory doctor or nurse about the precautions you, your carer and home care team should take in your home
Clean your equipment and replace filters regularly as per your device manual
Ensure you have an adequate supply of filters and tubing
Will I be at risk if given oxygen therapy for COVID-19?
Each clinical situation involving people with MND will be different. For some, prolonged use of oxygen therapy can be risky with MND. It can cause an upset in the balance between oxygen and carbon dioxide in your blood stream. However, there may be situations where oxygen can be used for short amounts of time to bring oxygen levels up.
In situations where oxygen is used, the person who is caring for you should liaise with your MND clinical care team, who understand your needs.
You can also use a medical plan (e.g. information written down or available on your mobile phone or computer about your treatment for breathing with MND). Try to have this information with you at all times. If you do need emergency help, this information lets medical staff know that you have MND and that oxygen may need to be used with caution.
What should you do if you do not currently use a device to support your respiratory muscles but think they are weakening
In response to COVID-19, the Australian Government has introduced a much-expanded Medicare at Home measure which safeguards and ensures care for all those with chronic conditions such as MND. Medicare at home means people living with MND can safely stay at home, and still have access to their allied health care team, GP, nurses and specialist doctors, such as neurologists and respiratory specialists via telehealth services.
If you do not have any symptoms of COVID-19 but think you may be developing symptoms of respiratory muscle weakness due to your MND, then you should contact your MND clinical care team.
Your neurologist may refer you to a respiratory specialist for an assessment of your respiratory function. The strategies below can help.
Non-invasive ventilation
Non-invasive ventilation may be prescribed to manage respiratory symptoms and improve your quality of life. Your neurologist may also advise you to consider having a gastrostomy tube inserted (PEG) to support eating and drinking should you also develop difficulties with swallowing (for more information see our factsheet on considering gastrostomy). If required, it is generally safer to have this procedure before respiratory muscle weakness progresses too much.
Why you need to stay in contact with your neurologist and/or respiratory doctor
The level of COVID-19 cases may result in increased and high demand from hospitals for machines to assist with breathing which may impact access to supply for the MND community. It is therefore important to stay in contact with your neurologist and/or respiratory doctor to ensure that they are able to monitor your respiratory function closely and ensure the appropriate equipment is available to you when you require it.
If you experience any problems in accessing non-invasive ventilation, cough assist devices or associated equipment such as masks, talk to your state MND Association advisor who may be able to advocate on your behalf.
As the national voice for the MND community, MND Australia is working with MND Clinics, the national MND Association network and members of the International Alliance of ALS/MND Associations to monitor the impact of the COVID-19 outbreak on access to services and support for people living with MND.
We will continue to work to bring any issues or impacts on the MND community that arise due to the current crisis to the attention of decision makers.
Influenza vaccine
The influenza (flu) vaccination is usually available around early April and you need it every year, however the COVID-19 vaccine two-dose schedule should also be a priority.
It is recommended that people wait at least 2 weeks between their flu vaccination and receiving the COVID-19 Pfizer vaccination. The COVID-19 Pfizer vaccination should be taken in two doses and 21 days apart. Please book to have your influenza vaccine at least two weeks after completing your second COVID-19 vaccination so that the opportunity to be protected against influenza is not lost.
People receiving the Astra Zeneca vaccine need to wait for a longer between the two doses, and should discuss the timing of the flu vaccine with a GP.
Support for relieving stress, anxiety and other mental health issues
There are many great sources of information and support that can help reduce the stress associated with MND and during the pandemic.
Finding ways to better manage stress can help improve quality of life and make life easier during lock down.
National Disability Insurance Scheme (NDIS), My Aged Care and COVID-19
The Federal Government has provided important information about COVID-19 and how it impacts on its support and services used by people living with MND, including, how the NDIS has changed with the pandemic, admission to facilities, food and meals, payments and other forms of support:
NDIS participants are now able to use their plan funds to claim rapid antigen tests (RATs).
Helplines and more information and support
For more information about respiratory management contact your GP, neurologist, respiratory physician, palliative care team, MND clinic or your MND Association on 1800 777 175.
MND Australia encourages people living with MND to talk to their doctor about COVID-19 to understand the implications for their unique circumstances.
COVID-19 vaccine information in community languages
Information about COVID-19 vaccines has been translated into multiple languages by the Department of Health: COVID-19 vaccine information in your language.
Multilingual Older Persons COVID-19 Support Line
The support line is Australia-wide and provides in-language information and support associated with COVID-19, and referrals to appropriate services and programs for older Australians from culturally diverse backgrounds.
The support line is available in Arabic, Cantonese, Greek, Italian, Mandarin and Vietnamese. All calls are free, 2:00pm - 5:00pm (Melbourne time) Monday to Friday (except public holidays).