If you have questions about COVID-19, it's best to contact your healthcare team (neurologist, GP and others) who can advise about the virus, its vaccinations and Motor Neurone Disease (MND) treatments and support.
Below is general information about COVID-19 and MND. People living with MND often have problems with swallowing, breathing and coughing due to muscle weakness and may therefore be at risk of developing serious complications if they become infected with the COVID-19 virus, regardless of their age.1 Restricted or delayed access to medical appointments and home support workers due to the pandemic may also prevent timely care.
It is important that people living with MND find ways of reducing the risk of infection through vaccinations, hygiene and social distancing for current, and future, stages of the pandemic. Relevant government services and support are also available.
Reducing the risk of infection is still important for the current and future stages of the pandemic.
The current situation with COVID-19 in Australia continues to rapidly change. There continue to be new information and updates about virus case numbers, sources of infection, testing and developments in medical procedures, public health recommendations, and government decisions and restrictions.
You can access the latest updates about COVID-19 case numbers, vaccines and other information in Australia at:
Vaccinations and boosters
COVID-19 vaccinations are effective at reducing infection with COVID-19, and limiting illness from the virus.2
Due to the risk of serious complications and the need for medical and other care, COVID-19 vaccinations are important protection against the virus for people living with MND. COVID-19 vaccinations are effective at reducing infection with COVID-19, and limiting illness from the virus.2
Governments in Australia are encouraging everyone to get vaccinated because people who are vaccinated, and in turn the whole community, have greater protection from COVID-19.
Three vaccines are currently being rolled out for use in Australia:
The Spikevax Bivalent Original/Omicron BA.1 (Moderna bivalent vaccine) has provisional approval.
The Vaxzevria (AstraZeneca) is no longer available but information about the vaccine is still relevant for those that previously received a primary course and/or booster dose of AstraZeneca.
You should stay up to date with all vaccinations recommended for your age or individual health needs. ATAGI provides advice on vaccines and dosages for each age and population group.
A booster dose is an extra vaccine dose that is given after you complete the primary course to increase your protection against the disease.
Help for booking vaccinations:
Easy Vaccine Access (EVA) service – text Hey EVA to 0481 611 382 and someone from the National Coronavirus Helpline will call you back and find you a COVID-19 vaccine appointment (available every day from 7am to 10pm (AEST) with free interpreting assistance).
Boosters
Booster doses are recommended to maintain immunity against COVID-19. A booster will continue to protect you and your loved ones from infection with the disease.
ATAGI recommended an early 2023 COVID-19 vaccine booster dose for the following groups, if their last COVID-19 vaccine dose or confirmed infection was 6 months or longer:
adults aged 65 years and older
adults aged 18-64 years with complex medical comorbidities that increase their risk of severe COVID-19, or disability with significant or complex health needs.
Adults aged 18-64 years old without risk factors for severe COVID-19 and children and adolescents aged 5-17 years who have medical comorbidities that increase their risk of severe COVID-19, or disability with significant or complex health needs should consider an early 2023 COVID-19 vaccine dose.
An early 2023 booster dose is not recommended at this time for children and adolescents aged 17.
Learn more about eligibility for early 2023 booster doses
Vaccinations for carers and disability, aged care and other workers
For people who provide care and other help for people living with MND, vaccinations can help reduce the risk of COVID-19 infection, and serious illness, for themselves, and those they support. Medical and other forms of support for carers can reduce any further pressure and burdens experienced by them during the pandemic.1
The Australian Government has encouraged carers, disability workers, aged care workers and other support workers to get vaccinations and follow advice about COVID-19:
Being aware of the rights that people living with MND have for receiving the care they need during the pandemic, and in ways that reduce the risk of infection, is also important.
The following advice and guidelines can help with supporting the rights and health of people living with MND.
Vaccine side effects
Common side effects to COVID-19 vaccinations include pain where you had the injection, tiredness, muscle aches and others3 that you can learn more about with the healthdirect Side Effect Checker.
If you are concerned about side effects:
talk to your GP, neurologist or other members of your healthcare team
call the Australian Government Department of Health COVID-19 Hotline on 1800 020 080 (available 24 hours a day), or
call 000 if you have difficulty breathing, a fast heartbeat, are wheezing, or are otherwise seriously unwell.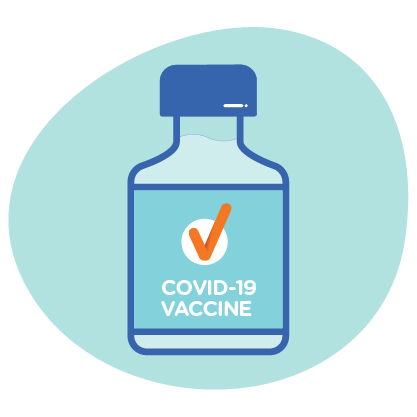 It also helps to check the accuracy and quality of information you read about vaccinations.
Quality checking can help if you come across "misinformation" about vaccinations. Misinformation includes false, misleading, or inaccurate health information about vaccinations and is common offline and online, including through Facebook videos and other social media platforms.4
Checking the quality of information and using evidence-based advice from credible sources is important for learning about vaccinations.
Influenza vaccine
The influenza (flu) vaccination is usually available around early April and you need it every year.
COVID-19 vaccines can be given on the same day with an influenza vaccination.
It is best to speak with your healthcare team about when to schedule your vaccinations.
Reducing the risk of infection
Every precaution should be taken to prevent you, the people in your household and others you see regularly from becoming infected with COVID-19.
Practicing good hygiene and social distancing are important for preventing the risk of virus infection. Using face masks, maintaining physical distance from others when possible, washing hands with soap and water and other kinds of hygiene can help.5
Different states and territories have changing rules for use of face masks. You may be eligible for an exemption from wearing a face mask and can check rules at healthdirect
The World Health Organisation (WHO), healthdirect and the Department of Health provide useful information about good hygiene and social distancing, including information in videos, posters and other styles and formats.
It's important to live life as best you can with MND. You may find it helps to balance the risks when making decisions or thinking about meeting other people, and choose what works for you within your state and territory guidelines.
If you are unwell or think you have COVID-19
If you feel you may have COVID-19 symptoms, you should get tested for COVID-19, isolate yourself and seek medical advice as soon as possible. Common symptoms include fever, dry cough and shortness of breath [6].
If you are concerned that you may have symptoms or may have been exposed to COVID-19 you can:
call the National Coronavirus Helpline on 1800 020 080, or
use the healthdirect symptom checker tool.
You should let your MND clinical care team know of your concerns as soon as possible.
People living with MND may already have some difficulty with breathing. If you experience any increased difficulties or sudden onset of breathing difficulties, present to your nearest emergency department or call 000 for urgent help. Let them know in advance if you have tested positive or been exposed to COVID-19 so they can prepare for your arrival.
It is important to also know the full range of symptoms of COVID-19. Other symptoms that are less common and may affect some people include:
loss of taste or smell
aches and pains
headache
nasal congestion
red eyes
diarrhoea, or
a skin rash.
You can refer to the healthdirect symptom checker for help understanding symptoms and knowing when to seek help.
If you test positive to COVID-19, healthdirect provide guidance and information, including what to do and how long to isolate.
Treatments
Two types of COVID-19 treatments available in Australia: antiviral and monoclonal antibody treatments.
Not everyone with COVID-19 will need or be eligible for antiviral or monoclonal antibody treatments. People living with MND may be eligible, however.
Your doctor can advise about eligibility and prescriptions for treatments.
Support at home
When isolating or staying home to reduce the risk of infection, it's important to find ways of accessing essential supplies, staying connected, doing enjoyable activities and looking after your mental wellbeing.
Online deliveries
Deliveries ordered online, over the phone or arranged by friends and loved ones can help with staying safe from COVID-19.
You may be able to access support for food deliveries, medicine and other essential supplies, including some supermarkets that have special arrangements for older people and digital prescriptions.
Learn more about online support for essential supplies and isolation and COVID-19
Mental wellbeing
Staying in touch with family and friends, eating well with MND, doing enjoyable activities, trying to stay positive, accessing mental health plans from your GP and other mental wellbeing strategies and approaches can all make it easier when staying at home or self-isolating.
You can access online and phone-based information and help for more ways of reducing any worries you may have about COVID-19 and supporting your mental wellbeing. Trustworthy, evidence-based sources of information about mental wellbeing include:
MND Advisors can offer emotional support in a flexible way to help maintain mental wellbeing, if you are in isolation. Phone or video calls can be made instead of home visits.
It's also important to talk with your GP and healthcare team about what may help reduce stress and find ways to relax at home.
Tips for online participation
Information and help are available online and offline for making it easier to use smartphones, computers and tablets to do online banking, telehealth, chat with friends on social media, play games, participate in education webinars and meetings with video software and other online activities.
You may want to know more about devices, software and equipment for making speech and communication that make online participation easier. Easier communication through technology can help with maintaining independence, greater enjoyment in everyday activities and better quality of life.7-9
Learn more about what is available online or in your state or territory:
It can also help to be aware of how you can reduce the risk of issues with your data and privacy online, scammers and using the internet on behalf of others, including carers and loved ones who may be supporting people living with MND:
Breathing, MND and COVID-19
Over time, MND causes the muscles that support your breathing to weaken and can lead to fatigue and difficulty sleeping and breathing. Body positioning, adjusting air flow, assistive devices and other techniques and equipment are used to manage difficulties with breathing, and it can help to know what this means for dealing with COVID-19.
Your healthcare team are the best and first contact about breathing, MND and managing the risk of infection from COVID-19 or living with the virus. Your team will understand what is most relevant to your situation and needs.
You may find it helps to also be aware of what COVID-19 means for:
use of oxygen therapy, and
weakening of muscles used for breathing.
Will I be at risk if given oxygen therapy for COVID-19?
Each clinical situation involving people with MND will be different.
Due to weakness of the muscles involved in breathing, prolonged use of oxygen therapy can be risky for some people with MND. Prolonged use can change the balance between oxygen and carbon dioxide in your blood stream. However, there may be situations where oxygen can be prescribed by your medical team for short amounts of time to bring oxygen levels up.
In situations where oxygen is used, the person who is caring for you should liaise with your MND clinical care team, who understand your needs.
You can use a medical plan (e.g. information written down or available on your mobile phone or computer about your treatment for breathing with MND). Try to have this information with you at all times. If you do need emergency help, this information lets medical staff know that you have MND and that oxygen may need to be used with caution.
It also helps to plan ahead for emergencies and in case of COVID-19 infection:
I use a non-invasive ventilator (NIV), can I still use NIV if I have COVID-19?
Yes. Do not stop using your ventilator without discussing with your MND clinical care team. Ventilator use is especially important if you cannot breathe well without the ventilator. Use of a ventilator may pose a risk of virus infection to others near you, but if you stop use of a ventilator there may be a higher risk to your health. Seek advice from your MND clinical care team.
I use other respiratory therapies (e.g. nebulisers, cough assist devices), can I still use these if I have COVID-19?
Yes. Use of nebulisers and other respiratory therapies may increase the risk of virus infection with others near you, but if you stop use of these therapies, there may be a higher risk to your health. Seek advice from your MND clinical care team.
What should you do if you do not currently use a device to support your respiratory muscles but think they are weakening?
If you do not have COVID-19 but think you may be developing symptoms of respiratory muscle weakness due to your MND or have worsening symptoms after recovering from COVID-19, then you should contact your MND clinical care team.
Your neurologist may refer you to a respiratory specialist for an assessment of your respiratory function. More information on the strategies below can help:
Stay in contact with your neurologist and/or respiratory doctor
The level of COVID-19 cases may result in increased and high demand from hospitals for machines to assist with breathing which may impact access to supply for the MND community. It is therefore important to stay in contact with your neurologist and/or respiratory doctor to ensure that they are able to monitor your respiratory function closely and ensure the appropriate equipment is available to you when you require it.
If you experience any problems in accessing care or equipment, talk to your state MND Association advisor who may be able to advocate on your behalf.
As the national voice for the MND community, MND Australia is working with MND Clinics, the national MND Association network and members of the International Alliance of ALS/MND Associations to monitor the impact of the COVID-19 outbreak on access to services and support for people living with MND.
We will continue to work to bring any issues or impacts on the MND community that arise due to the current crisis to the attention of decision makers.
Government support: National Disability Insurance Scheme (NDIS), My Aged Care and COVID-19
The Federal Government has provided important information about COVID-19 and how it impacts on its support and services used by people living with MND, including, how the NDIS has changed with the pandemic, admission to facilities, food and meals, payments and other forms of support:
Helplines and more information
For more information about respiratory management contact your GP, neurologist, respiratory physician, palliative care team, MND clinic or your MND Association on 1800 777 175.
MND Australia encourages people living with MND to talk to their doctor about COVID-19 to understand the implications for their unique circumstances.
COVID-19 information in community languages
Information about COVID-19 vaccines, use of face masks, social distancing and other public health advice has been translated into multiple languages for use in Australia and is available from:
If you need an interpreter for languages other than English call 1800 131 450