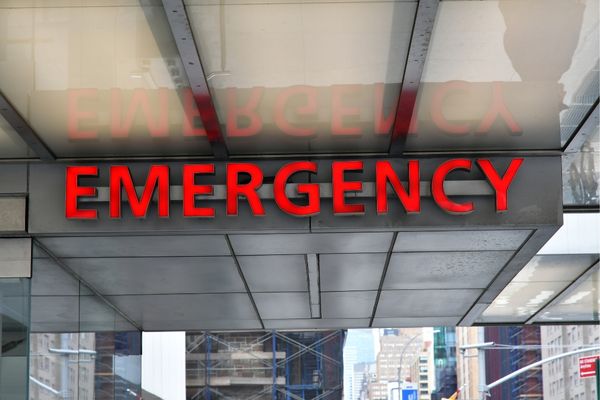 There are many reasons why people with MND may require careful management in an emergency healthcare setting. Reasons include:
1
Chest infections
Breathing problems including acute respiratory distress
Severe swallowing problems
Blockage of PEG or RIG (enteral feeding apparatus)
Dehydration
Pressure care
Severe pain
End of life
Living with MND can be difficult. Sadly, not only is MND a life limiting illness, but the disease brings with it a range of daily problems: difficulty breathing and swallowing, increasing weakness and loss of movement, communication challenges, aches and pains, stress and anxiety to name a few.
Managing the symptoms of MND are only the tip of the iceberg. As COVID-19 and health worker shortages place great strain on Australia's health system, wait times in hospital emergency departments have increased. Those needing urgent care may experience delays, and people living with rare diseases and disability are disproportionately at risk of poorer outcomes when navigating a health care system under strain.2–4
Some people with MND may also be admitted to hospital for urgent or unplanned non-invasive ventilation or PEG interventions. Such unplanned procedures can also contribute to longer hospital stays.5
In addition to long wait times, emergency departments (ED) can be noisy, busy and fast paced environments that often function with limited resourcing and are over-burdened and time pressured.6,7 Staff are required to meet high demands and juggle competing priorities on a regular basis. With so much pressure, it can be very hard to provide optimal support for a person with MND.
There is no easy solution to reducing the pressures on Australia's health system. We can do more though, to be better prepared to support people living with MND when they need emergency care. Better planning, increased investment in standardised care pathways and use of current, evidence-based information resources are critical for improved emergency support for people with MND.
Why is the transition between multidisciplinary care and emergency situations challenging with MND?
At any one time, there are around 2000 Australians with MND and the estimated prevalence of the disease in Australia is 8.7/100,000.8 The disease can progress quickly, and it's important that symptoms are optimally managed on a day-to-day basis.
The best approach to symptom management and healthcare for a person with MND is a flexible, coordinated, team approach known as multidisciplinary care. Multidisciplinary care for people living with MND can be provided within MND clinics in a hospital, or through the community (often co-ordinated by a local MND association).
A hospital-based MND clinic is staffed by neurologists and other specialist doctors, nurses and allied health professionals who have in-depth experience of MND and managing its symptoms.
Multidisciplinary MND clinics provide the opportunity for people with MND to receive medical treatment, support and guidance on a regular basis by a team who are knowledgeable about the disease, and can respond to changing clinical and psychosocial needs as required over time.9–12 While this is important, in Australia there can be challenges in attending MND clinics due to service boundaries, distance and funding.13
Regardless of how usual care is managed, due to the nature of the disease there may be times when a person with MND needs urgent care outside of clinic hours and requires ambulance attendance and paramedic care, or present to an emergency department.14 In these emergency situations, receiving appropriate care that meets the needs of people living with MND can be challenging.
In an ED, staff will triage, stabilise and provide acute healthcare to patients.15 Because of the way that MND affects the body, some aspects of care require more time and a different approach than usual. For example, supplementary oxygen is often given to patients with low blood oxygen levels, however this may be inappropriate for MND patients with respiratory hypoventilation (slow or shallow breathing) and should be used with caution.
Breathing muscle weakness associated with MND may lead to levels of carbon dioxide in the blood becoming too high (known as hypercapnia) if high flow oxygen is administered.1,16
Nursing a patient in an upright position may also be required due to increased breathing difficulties (called orthopnoea) when patients with respiratory muscles weakness are laid flat. If an ambulance is required, paramedics are skilled clinicians capable of caring for patients with hypercapnia and respiratory distress.
Communication in patients with MND can also be severely compromised, and it is important to establish and utilise their best means of effective communication, which for example may be through pen and paper, communication charts or electronic aids such as an iPad.
During routine business hours, calling your neurologist, respiratory physician or MND clinic nurse to let them know of your need for urgent or emergency care is also important. You may then be met in ED by your treating neurologist or respiratory doctor, if they are available. Alternatively, they may call and advise the treating doctor in ED. Similarly, your palliative care team may have a 24-hour service or be able to provide advice either to you or the clinical team providing care in ED.
What helps? Being proactive for changing needs with MND
Advance care planning
Due to constant changing needs of a person with MND, proactive and pre-planned management and directives are important in urgent and emergency care.14
Advance care planning is the process of planning future health care, should a person be unable to participate in those decisions in the future. It provides the opportunity for people to think about what health care they would like, or not like to receive and ensures that those preferences are known and will be respected.17
Research has demonstrated that there is an increased use of emergency departments in the last year of life18 and a need for more staff education on end of life care in emergency departments.7 Challenges in maintaining coordinated care that meets the needs of people living with MND also makes the provision of high quality end of life care difficult.6
Advance care planning is critical to ensure medical decisions and directives follow personal preferences, should the person with MND be unable to participate in those decisions at the time of requiring medical intervention in emergency settings.7,19
It is also important that the personal preferences of the person with MND are communicated to their family and are readily available in the event of emergency care.
Clinical care pathways and guidelines
Clinical care pathways are an evidence based tool used to guide clinical processes. They are a tool which translates clinical guideline recommendations into processes of care or steps to follow, in the course of treatment for a specific episode of healthcare, procedure or problem.20
Clinical care pathways assist clinicians in providing high-quality, evidence-based and standardised healthcare21,22 and optimise patient outcomes.14,22–24
Recently, MND Australia, in collaboration with the Australasian College of Paramedics, developed a resource for supporting people with MND when paramedic care is required. This resource was designed to be integrated within the College's Emergency care and MND online education module, but is also available to download from the MND Australia website.
People living with MND, their family, carers and loved ones can print the resource to keep handy should the need arise to call an ambulance or attend an emergency department. It provides a quick reference guide, similar to a clinical pathway, to support paramedics in providing emergency care for people with MND.
Further information about caring for someone with MND for acute, urgent and emergency care staff has also been developed by the UK's Motor Neurone Disease Association and can be found here.
The COVID-19 pandemic continues to highlight the systemic disadvantage faced by people with disability and rare diseases.4,25,26 As Australia continues to grapple with the major challenges facing the health care system, steps can be taken to better support people living with MND when faced with emergency situations. Empowerment through information and planning ahead via advance care directives may be helpful in navigating some of the stress involved when needing emergency health care and managing the uncertainty of life with MND.